Father Takes a Bride (Xiao Er Nu)

Middle school teacher Wang Hongchen was a widower with a daughter and two sons. Since graduation from middle school the eldest daughter Wang Jinghui had been staying at home to look after her father and brothers.

One day on a bus Wang Jinghui's dress was clamped by a passenger's crabs. She thought that he was taking advantage of her and slapped him in the face. Soon she was so embarrassed to find that it was her old classmate Sun Chuan. She then invited Sun to her house for a visit. As Wang Jinghui's brothers, Jingfang and Jingcheng, saw Sun's crabs they shouted at him and asked if they could have crabs for dinner. Sun, who had secret feelings for Wang Jinghui for years, promised to bring some more crabs for them the next evening.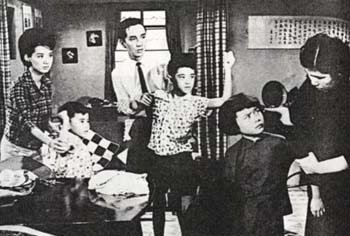 In the weekend Sun invited Wang for a date but was followed by her brothers. Sun did not mind at all and the four of them had an enjoyable day in the cinema and amusement park. Meanwhile, Wang Hongchen, who had been in love with his colleague Li Qiuhuai, also thought of marrying Li as he knew that his daughter would most probably marry Sun sooner or later.

One day when Wang Hongchen was arriving at home from work, he saw his sons sharing some biscuits with a girl Liu Xiaofeng living next door. However, Xiaofeng's stepmother came to scold her for accepting other people's food and forced her home. The Wang brothers were so angry that they accused stepmothers for bullying children. Wang Hongchen was alert of his sons' comments and dared not mentioning his intention to marry Li.

Soon Wang Jinghui was told that her father had been in love with a colleague. With fears that the stepmother would bully her brothers, she rejected her father's idea of inviting Li to dinner at home. Meanwhile, knowing that Wang Hongchen's children might not be pleased with her, Li decided to quit and teach in another school on Green Island beginning the next term.

After some thought, Wang Jinghui decided to look for a job to support her brothers instead of leaving her father alone for the rest of his life. To avoid Sun's opposition, she even told him that she was marrying a rich man soon. Then she went to attend an interview at the school on Green Island but met Li instead. Without knowing that Li was her father's lover, Wang Jinghui had a long conversation with her and both were very much impressed.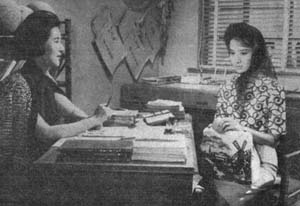 On a Saturday afternoon when they were having lunch at home, the Wang brothers suspected that their father was leaving them behind to marry someone else and protested loudly. Wang Jinghui tried hard to stop them, saying that they should not forbid their father from pursuing happiness. The Wang brothers then said they would rather stay with their father for the rest of their lives instead of getting married when grown up. Knowing that she had little chance to marry Sun, whom she loved, she also said she would never marry. The Wang brothers then rushed to tell Sun. Suspicious of what they said, Sun hurried to Wang's house for clarification.
Having left Sun's house, the Wang brothers wandered around until they saw their father dating with Li. They shouted at him, saying that they would never accept a new mother. As they returned home they saw Sun asking their sister to marry him. Again they shouted at their sister and then ran away. The young brothers had nowhere to go but to cry at their mother's grave.

As the Wang brothers wanted to go home at night, they were horrified to see that they had been locked inside the cemetery. Their father, sister, Sun and Li were so worried that they started searching for them wherever they could think of. Later it was Li who found the Wang brothers at the cemetery's gate and then escorted them to the hospital. Only until then did the Wang brothers give up their hostility towards Li and all of them went home in relief.

Starring:
Wang Jinghui - You Min
Sun Chuan - Lei Zhen
Wang Hongchen - Wang Yin
Li Qiuhuai - Wang Lai
Wang Jingfang - Deng Xiaoyu
Wang Jingcheng - Deng Xiaozhou
Liu Xiaofeng - Xiao Peipei
Mrs Liu - Jia Ling


---
Previous | Filmography | Next