Tokyo, Hong Kong, Honolulu (Xiang Gang, Dong Jing, Xia Wei Yi)

Once a Japanese young man Jiro Okamoto took a photo of his classmate Wu Ailing and enrolled her in the Miss Honolulu Pageant. To her surprise Wu became the champion and won two free round-trip tickets to Hong Kong and Tokyo. Knowing that Jiro Okamoto's elder brother, Yuichi, had been secretly in love with his daughter for quite some time, Wu's father Zian asked Yuichi to accompany her throughout the trip.
Before their departure Wu's mother told her that she was an adopted child and had a younger sister called Ailan, who had been adopted by a Liu family in Hong Kong. She also said Wu had been engaged to a man called Zheng Hao, whom Wu had never met. She then asked Wu to look for them when she arrived in Hong Kong.

When in Tokyo Yuichi became Wu's tour guide and they did not return to Yuichi's house until very late. Yuichi's family was so unhappy that his grandmother even employed a detective to follow them.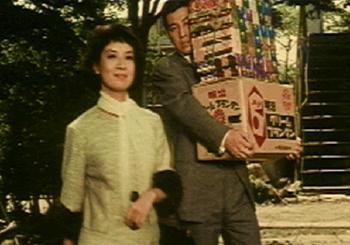 Meanwhile, Wu was not satisfied with Yuichi's tour guiding and went exploring on her own one day. However, she soon lost her way but was finally found. Although worried about her safety, Yuichi thought he was losing face because of Wu and slapped her in the face. Feeling insulted, Wu then telephoned Jiro in Hawaii and told him what his brother had done to her. Jiro, who also loved Wu in secret, took this opportunity to express his love for her and hurried back to Tokyo. However, as he arrived home, Wu had already left for Hong Kong with his brother.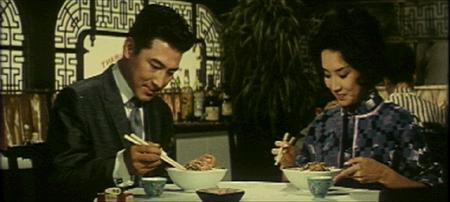 When in Hong Kong Wu found her sister Liu Ailan and together they went visiting their parents' friends to know about them. Wu also found that Zheng, whom she was supposed to marry, had become Liu's boyfriend. She was more than happy to ignore the engagement and thus did not tell her sister about this.

Soon the vacation was over and Wu was about to return to Honolulu. Yuichi then asked if she would marry him. To retaliate Wu did not speak a word, but slapped him in the face as an answer.
Starring:
Wu Ailing - You Min
Yuichi Okamoto - Akira Takarada
Jiro Okamoto - Yuzo Kayama
Liu Ailan - Zhang Huixian
Zheng Hao - Lin Chong
Wu Zian - Wang Yin
Wu's mother - Wang Lai
Okamoto's grandmother - Choko Iida


---
Previous | Filmography | Next