Star of Hong Kong (Xiang Gang Zhi Xing)

As a veteran doctor at a public clinic for refugees in Hong Kong, Wang Chunbo was well respected for his selfless service over the years. His daughter Wang Xinglian wanted to follow his example and had been studying in a medical college in Japan. She was graduating in six months' time.
During the winter holidays Wang Xinglian returned to Hong Kong to stay with her father. One day Wang Xinglian brought a broken radio to a Japanese company for repair and met a Japanese young man called Toru Hasegawa. They were both impressed by each other.

Soon Wang Xinglian returned to Japan to continue her studies. For years she had been living in the house of Gentaro Sugimoto, a good friend of her father. She had also become a close friend of Sugimoto's daughter Kanako, who was a fashion magazine editor. One day she asked Wang Xinglian to be a model of skiing clothings and invited her to take pictures in Hokkaido, northern Japan.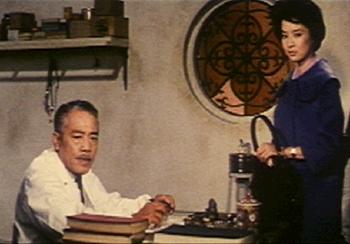 When skiing Kanako sprained her ankle and a man came to her assistance and brought her back to the hotel. When Wang Xinglian opened the door she was surprised to see that it was Hasegawa. Hasegawa volunteered to be Wang Xinglian's tour guide. After they had returned to Tokyo, Hasegawa kept dating with her and soon they fell in love with each other.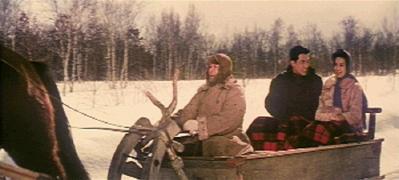 Wang Chunbo's student Zhang Yingming went to Japan to further his studies and was worried to see Wang Xinglian abandoning her studies for Hasegawa. He told Wang Xinglian that she should pay more attention to her studies so that her father would not be disappointed. Meanwhile, Wang Xinglian also found that Kanako had been a secret admirer of Hasegawa and thus decided to quit.
However, Hasegawa did not give up and waited for Wang Xinglian in a downpour. He even told her that he was returning to Hong Kong and wanted to marry her. Wang Xinglian refused and said she was engaged to Zhang. Hasegawa then left in disappointment.

Several months later Wang Xinglian graduated and returned to Hong Kong with Zhang. Knowing that Hasegawa had been in Hong Kong she told her father that she had accepted an internship in Singapore. Before her departure, Wang Xinglian invited Kanako to sight-seeing in Hong Kong and tried to arrange a meeting for her with Hasegawa.

As told by Kanako, Hasegawa knew that Wang Xinglian was not engaged to Zhang and thus demanded to be transferred to Singapore. With enormous efforts Hasegawa managed to find Wang Xinglian and proposed to her. After some thought, Wang Xinglian finally nodded assent.

Moments later Wang Xinglian received a telegraph from Hong Kong, saying that her father had been seriously ill. She then hurried back home with Hasegawa to accompany her father until the last moment.

As Wang Xinglian was praying for her father in the chapel, Hasegawa received a call from the company asking him to take up a position in San Francisco, the United States. Hasegawa had no choice but to leave for the airport. As Wang hurried to the airport it was already too late to bid farewell with Hasegawa.

Starring:
Wang Xinglian - You Min
Toru Hasegawa - Akira Takarada
Kanako Sugimoto - Reiko Dan
Gentaro Sugimoto - So Yamamura
Zhang Yingming - Lin Chong


---
Previous | Filmography | Next