Her Pearly Tears (Zhen Zhu Lei)

Young scholar Jing Yunrui had been travelling around the country and on his way home, he met a beautiful lady named Jiaonu at Lake Dongting. Knowing that she was homeless and had nowhere to go, Jing invited her to follow him home and Jiaonu accepted with joy.
There was suddenly a rainstorm when the boat was sailing across the lake. Everyone but Jiaonu was scared. A businessman selling medicine was worried about his stocks which were dripping wet because of the downpour. Jiaonu asked Jing to buy them at a low price as those might be useful in future. Jing agreed.

Jing's village had almost been emptied by a plague. Most of the servants were gone, leaving an old servant looking after the house alone. As Jing opened the bags of medicine he was surprised to see that they were all in good condition. He then sold the medicine to the remaining villagers and made a profit.

Deeply in love with the beautiful and tender Jiaonu, Jing wanted to marry her but was refused. One day after midnight, Jiaonu sneaked out of his house and headed for the lake. As Jing arrived at the lake he was unable to find her. Then he returned home in puzzle.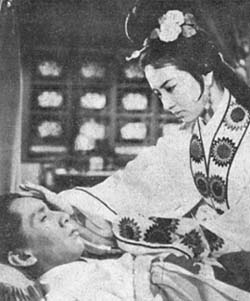 The next morning Jiaonu told Jing that she was actually an imperial maid who had been serving in the Dragon's Palace in the East China Sea. Once she had done something wrong and was then expelled. She was going to Lake Dongting for shelter but instead was invited to Jing's house. As a marine animal she could not marry humans although she knew how much Jing loved her. Jing was so disappointed that he fell seriously ill. Jiaonu tried her best to take care of him and looked for a way to comfort him.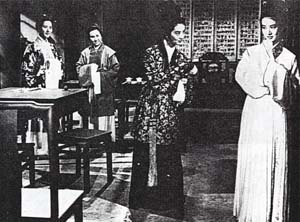 One day Jiaonu went to pray in the Tanhua Temple where she saw Madame Tao and her daughter Wanzhu, who resembled Jiaonu in appearance. Jiaonu made some efforts to know Tao and vowed sisterhood with her in the hope that she could marry Jing instead. In his illness Jing could hardly tell the difference between Jiaonu and Tao and proposed to the latter. Tao's mother thought Jing had been rude to her daughter and claimed that he could never marry her daughter only if he could produce 10,000 pearls of the same size as the betrothal present.
On the eve of her departure, Jiaonu bid farewell to Jing in tears, which were later turned into shining pearls. She then asked Jing to marry Tao with the pearls and she would return in a year's time. On the other hand, she gave Tao a silk purse and asked her to open it on the first anniversary of her wedding.

Although Jing had married Tao he could never forget Jiaonu. Tao could do nothing to change his heart but shed her tears. On the first anniversary of their wedding, Tao opened the silk purse which Jiaonu had given her and found a piece of silk, which Jiaonu had been wearing. Tao put it on and went to see her husband. Surprised and overjoyed, Jing thought she was Jiaonu and told her how much he had missed her throughout the year. Tao was so bitter that she broke into tears. Seeing that Tao's tears could not turn into pearls, Jing knew that she was not Jiaonu and ran away in unbearable disappointment. Tao tried hard to follow him despite the downpour. As she arrived at Lake Dongting she could see her husband no more but one of his shoes.

Starring:
Jiaonu - You Min
Tao Wanzhu - You Min
Jing Yunrui - Lei Zhen
Madame Tao - Wang Lai


---
Previous | Filmography | Next