Sun, Moon and Star - Part 1 (Xing Xing, Yue Liang, Tai Yang - Shang Ji)

This was an adaptation of a novel of the same title by Xu Su.

Since her parents' death Zhu Lan had been living with her uncle and aunt, who did not pay much attention to her. When they ran into a financial crisis they arranged Zhu to marry a soldier in the same village, Li Zhizhong, eyeing for his generous betrothal presents. However, they did not know that Zhu had been in love with Xu Jianbai, the eldest son of a rich family, for a considerable period of time. When Xu returned home for holiday, he always met Zhu in the woods after midnight. Soon their secret meetings were made known to the villagers and Li's parents threatened to withdraw their proposal with suspicions that Zhu had an indecent affair with Xu.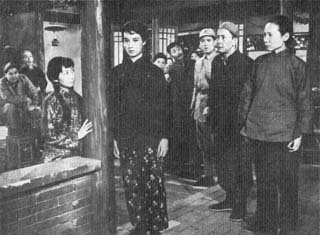 Zhu's uncle was a poor gambler and thus could not repay the betrothal presents. He was so embarrassed and enraged that he tried to slap Zhu in her face. Li stopped him and told him to be good to Zhu. Zhu was so grateful to him that she would never forget.

A stubborn old gentry who opposed to his son's love affair with Zhu, Xu's father ordered him to return to school earlier and visit his uncle Doctor Ma, with hidden hopes that he could date with his cousin Ma Qiuming instead of thinking of Zhu.

When Xu returned to school, he tried every means to avoid seeing Ma. One day Ma came to invite him to dinner at home and Xu had no choice but agreed. At midnight Xu suddenly fell ill in the hostel and was then sent to Ma's house for treatment. Even when asleep Xu was calling Zhu's name. Ma was saddened to know that her cousin had already had a lover back home.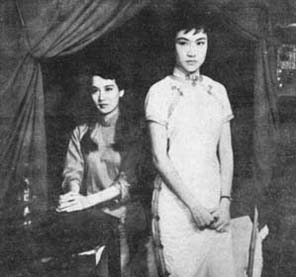 Meanwhile, hearing that Xu had been with Ma, his cousin whose father was a rich doctor, Zhu was self-abased and wrote Xu a letter, saying that she had a new lover and they were through. Saddened to receive Zhu's letter, Xu gradually turned to Ma with a lonely heart.

Months later Xu's grandmother passed away and thus he returned home to attend the funeral. Until then did he know that Zhu was actually trying to avoid him so that he could stay together with Ma. Feeling sorry and grateful to Zhu, Xu asked her to run away with him. Zhu nodded assent.

On the same evening Ma arrived at Xu's house with her mother. Knowing that Xu was about to run away with Zhu, she went to see Zhu and tried to persuade her. After some thought, Zhu finally agreed for she knew her pneumonia could hardly recover. After a lengthy conversation into the night, Zhu and Ma became close friends.
Xu was disappointed to know that Zhu would not follow him. He then took the train to the north for tertiary studies. On the way he met Su Yanan, a Chinese girl from southeast Asia. Together they organised student movements protesting Japanese invasion and soon fell in love with each other.

When Xu was away, Ma was so lonely that she asked Zhu to live with her and encouraged her to study at the medical training school. Ma's old classmate Jiang Yu, who was studying in the same college as Xu, often wrote letters to tell them about him. Ma and Zhu were all happy and relieved receiving letters from her.

Soon the Second Sino-Japanese War broke out in northeast China. Together with their teachers and classmates Xu and Su fled to the south. On their way Ms Gu, one of their teachers, died in a bombing. Saddened and enraged at Japanese invasion, Xu and Su went on with their arduous journey.

Starring:
Zhu Lan - You Min
Ma Qiuming - Ge Lan
Su Yanan - Ye Feng
Xu Jianbai - Zhang Yang
Li Zhizhong - Zhu Mu
Zhu's uncle - Wu Jiaxiang
Zhu's aunt - Liu Ximeng
Ma's father - Feng Yi
Xu's father - Chen Youxin
Jiang Yu - Su Feng
Teacher Gu - Wang Lai


---
Previous | Filmography | Next